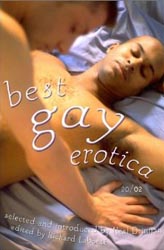 BuyBest Gay Erotica 2002

edited by Neal Drinnan and Richard Labonte
[Cleis Press, 01.2002]
Originally appeared on SuspectThoughts.com [01.2001]
Kiss the Concrete
The boy reached out for a cig and Mark tossed him the half-empty pack. He lit another match and held it close to the blond's face, studied his soft features and his cow-like brown eyes. He lit the boy's bobbing cigarette and examined the mound in his faded jeans. "I never lose," he said to the boy's dick. Mark raised his eyes and locked onto the kid's face; inhaled his sweet breath, exhaled smoke.
"Ever kill anybody?" The brown eyes widened.
"Why?" Mark laughed and took a puff, funneled the smoke out through his teeth.
"Just curious," the boy mumbled.
"Want me to kill someone?" Mark placed his thick hand on the boy's shoulder and squeezed until his soft face registered pain.
"Kill you, maybe?"
"No!" The boy jumped back and slammed into the bar. He complained in a strained falsetto, "You wanna kill me, man?"
"Yes." Mark sipped his beer. He snubbed his cigarette out in the ashtray and turned on the boy. "You kids are all the same. Gullible."

Finish reading "Kiss the Concrete" in Best Gay Erotica 2002