Buy The Silent Hustler
by Sean Meriwether
[Lethe Press, 10.2009]

Meriwether In the Media

Interview: Author, Editor Sean Meriwether sits down with The New Gay by Craig Gidney


Sean Meriwether has been publishing fiction that combines literary writing with gay erotica for the past 10 years.  This desire to write arousing fiction with literary values led him to create the Velvet Mafia site, which has published authors like M. Christian and Jameson Currier.

Meriwether published his collected works in a volume entitled The Silent Hustler last year, which garnered many rave reviews.  Meriwether spoke to The New Gay about gay fiction, publishing, and, of course, his own work. -- Read the Article

Become a fan of Sean Meriwether on Goodreads
Order the book on Amazon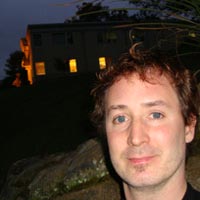 Sean Meriwether
Outside the site of The Highland Hospital
Asheville, NC
where Zelda Fitzgerald died.
Five Writing Aliases:
Vera Angstrom
Elizabeth Donohue
Jimmy Hamada
Betty Oblivion
Christopher Stone